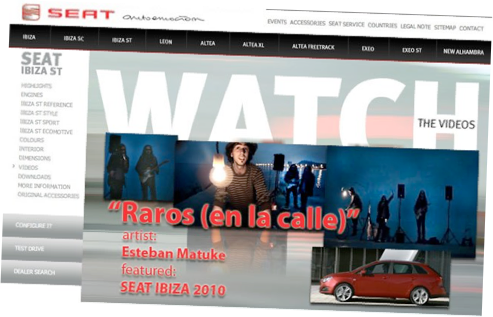 SEAT feature Esteban's "Raros" en la Calle
The new SEAT IBIZA spot with bicycle powered street musicians features the track "Raros" by Esteban Matuke as theme song and soundtrack. It's part of his new studio album "Raros en la Calle" available here on iTunes. . . inspired by challenges and triumphs, since 2006, moving from Chile to live and make music in Europe, via the parks of Barcelona to the main stages of international festivals, with plenty of rare and special characters observed, known and loved, on the way.
El nuevo spot de SEAT IBIZA con los músicos de la calle impulsados por bicicleta utiliza la pista "Raros" por Esteban Matuke como tema musical y banda sonora. Es parte de su álbum nuevo estudio "Raros en la Calle" disponible aqui en iTunes . . . inspirado en los retos y triunfos, desde 2006, pasando de Chile para vivir y hacer música en Europa, a través de los parques de Barcelona a las principales escenarios de festivales internacionales, con un montón de personajes raros y especiales, observó gente, conocio y amo en el camino.